Sunday: Pokémon XY - Episode Titles + Pokémon of the Week
28-09-2014 13:00 BST / 08:00 EDT by Serebii
This update may be amended throughout the day so be sure to check back. If you have any ideas for the site, be sure to send them in
X & Y have been out for months now, and the Chatroom has been rife with discussion while the WiFi Chatroom has been a place for battles, trades and Friend Safari hunting, so be sure to visit them. Our Forums have also had these discussion and are a bustling trade and competitive section for the games. Be sure to like our FaceBook Page.
Last Update: 14:26 BST
Edit @ 14:26: Episode Titles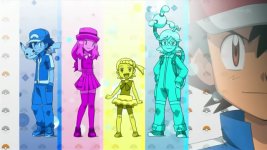 In The Anime Department
Pokémon XY - Episode Titles
A magazine has revealed another pair of new Episode titles for upcoming episodes. These episode are due to air on November 20th and November 27th respectively with no further details known for them at this point, but the episode on November 27th features the return of Sanpei.
Episode 854: Hawlucha & Dark Hawlucha!!
Episode 855: Ninja Art Showdown! Frogadier VS Barbarcle!!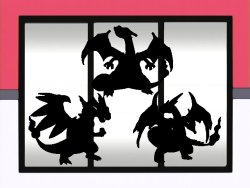 In The Pokémon of the Week Department
Who's That Pokémon
Today marks the fourty-eighth entry into the Generation VI competitive field with a Kanto Pokémon. These entries are created by the visitors for the visitors and then compiled by our writers Miror, Archangel, Ragnarok, KingTorterra, jesusfreak94 & UR2L8. To get involved, Click here for the discussion forum
Today, we are covering a Pokémon introduced in the first generation, including both of its Mega Evolutions. When expelling a blast of superhot fire, the red flame at the tip of its tail burns more intensely. Its wings can carry this Pokémon close to an altitude of 4,600 feet. It blows out fire at very high temperatures. If it becomes furious, the flame at the tip of its tail flares up in a light blue shade. It is said that Charizard's fire burns hotter if it has experienced harsh battles. So here it is, the fourty-eighth entry, Charizard.